Welcome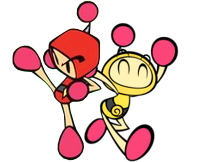 Welcome to Bomberman Wiki, 1999Elias! Thank you for your edit on the User:1999Elias page! We hope you continue editing here! There are tons of work to do around here, and we need YOUR help!
You can edit your userpage. Why don't you talk about yourself before editing? It's all about you!
You may want to check out the wiki's policies to ensure that you aren't breaking any rules.
We have chat! Chat with Bomber-users! It's a great way to get to know people around the wiki.
We have achievement badges for you to earn. Remember, hard work pays off. Try not to make small edits for badges; having more badges does not prove anything. It's just a fun way to edit.
If you need any help in particular, please contact me on my talk page!
Thanks for contributing to Bomberman Wiki! Have fun editing, 1999Elias! -- Bermuda (Talk) 16:26, September 8, 2011
Subordinate Bomber codes
Hey bro, thought you might want to check this out:
http://www.bombermanboard.com/viewtopic.php?t=1280
In case you don't have time to read, or need some explanation, here are the two codes you'll want for Subordinate Bomber:
7E16C209 - Get the character (P1)
7E16DA4F - Get the character's palette (P1)
(Make sure to activate them both. You can activate or deactivate them at any point during the game, so you don't need to reset.)
This not only sets Player 1 as Subordinate Bomber, but it even gives you his original (orange) color scheme! How cool is that?
This code works for both Battle and Normal Mode. The best thing is, since you're wanting to play Normal Mode, playing as Subordinate Bomber causes no graphical glitches in Normal Mode (he causes some problems in Battle Mode). I don't recall having any problems with him, and I just played through the first world with no issues. He's fully animated and everything.
So yeah. Enjoy!
Oh, and if you mess around with these codes, you can figure out a lot of cool stuff.
Plasma Bomber 22:53, September 25, 2011 (UTC)
Custom Sprites
Custom Sprites are cool, but please only upload sprites from the actual bomberman games. If you want to feature your custom sprites, please link to them in your profile. Thank you.
Legato32x 02:20, October 1, 2011 (UTC)
Community content is available under
CC-BY-SA
unless otherwise noted.