Trolley Rascal (とろっこやろう) is the eleventh stage in the Battle Game of Super Bomberman 4. It appears to be located in the Edo Era. It is one of two "special stages" that are unlocked by pressing the X button repeatedly for 6 seconds on the title screen. Because the use of passwords will negate the unlocking of this stage, there is only one variation.
The featured trap here is the Trolley. Only one Trolley appears on the map, but its location is randomly chosen from one of three starting positions, which are depicted in the image below.
(Note: The number of Egg items within parentheses is an extra amount that may or may not appear at random in a match.)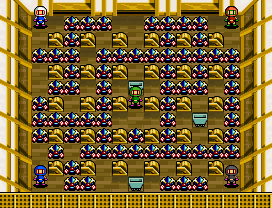 Traps: Trolley
Soft Blocks: 68
Items: 12
References
Super Bomberman 4 Hudson Official Guidebook, pg. 102, 108
Community content is available under
CC-BY-SA
unless otherwise noted.