Super Bomberman 2 (スーパーボンバーマン2, Sūpābonbāman 2) is an action puzzle game for the Super Nintendo released in 1994. It is the second game in the Super Bomberman series.
Story
Five alien cyborgs, calling themselves the Five Dastardly Bombers, arrive on planet Earth seeking the original Bomberman. Bomberman attempts to fight them off, but is taken captive on their space ship. He awakens in a prison cell in Magnet Bomber's base and must battle his way to freedom.[1]
Gameplay
The player must use bombs to defeat all the enemies and destroy all of the Capsules in the stage. This will open the exit, which the player can enter in order to advance to the next stage. There are eight areas in each world, six areas are normal areas and the final two are boss areas.
Worlds
Battle game
The Battle Game supports up to four players. Players can battle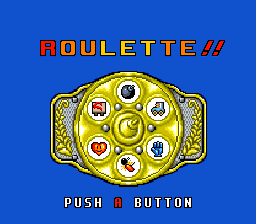 in a Single Match or a Tag Match. A new Battle Game setting, the Golden Bomber, was introduced in this game. With this feature enabled, the winning player of a match will be taken to a roulette-type mini game where they will win 1 of 6 items for the next set of battles: the Bomb-Up, the Speed-Up, the Power Glove, the Kick, the Heart, and the Geta. The winner will return as a Golden Bomberman for the next match.[2]
Stages
Passwords
Super Bomberman 2 has several passwords that allow players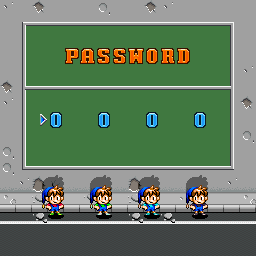 to access the first stage of each world. When a power password is used the player begins the first stage of that world with 6 bombs, a blast-radius of 6, a speed of 3, the Power Glove, and the Remote Control.
Passwords:




Power Passwords:
Stage 1-1 - 4361


Stage 1-1 - 1111
Stage 2-1 - 6442


Stage 2-1 - 5462
Stage 3-1 - 3903


Stage 3-1 - 6763
Stage 4-1 - 9564


Stage 4-1 - 8784
Stage 5-1 - 7735


Stage 5-1 - 6925

Sudden Death - 5656
This password is for the Battle Game. It causes the hard blocks that fall as the time is running out to keep falling until they fill up the entire stage, killing all the players. Using this Game Genie code will achieve the same effect: DD2F8F6F
Other cheats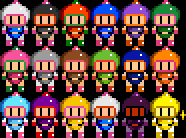 Trivia
Gallery
See also
References
External links
Super Bomberman 2 at Ragey´s Website