Spitfire (ゴーゴートロッコ, Go Go Trolley, in Japan) is the eighth stage in the Battle Game of Super Bomberman 3. It is an underground arena that appears to be located on Firestorm. The featured trap here is the Trolley.
Spitfire 8-1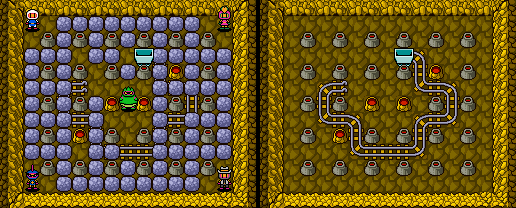 The Trolley track runs around in a circle in the middle of the stage. Because the fifth player is the closest to the Trolley at the beginning of the match, that player may take advantage of the trap in order to break open Soft Blocks and grab more items earlier on.
Spitfire 8-2
Password: 4622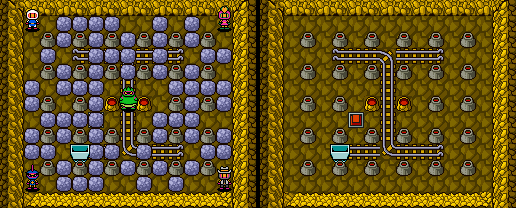 The Trolley track runs in an I pattern across the stage. There is a Switch that can be pressed or blasted in order to change the Trolley's path. It should be noted that when the match begins, the Trolley is restricted to a two tile space distance before the Switch is pressed for the first time.
Spitfire 8-3
Password: 1616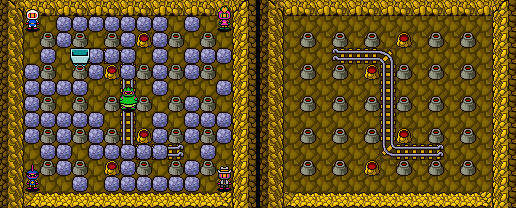 A very simplistic Trolley track appears in this stage. Battle strategies may tend to focus on stopping the player who is riding the Trolley.
Spitfire 8-4
Password: 3194


The majority of the stage is covered in Trolley tracks. Because of this, players must always be wary of how the tracks are aligned, and whether or not another player is riding the Trolley. A Switch may be blasted or pressed in order to change the track pattern; as a result, the Trolley may run around the center of the stage or close to the upper and lower edges.
References
Super Bomberman 3 Hudson Soft Guidebook, pg. 70-71, 96-97
Community content is available under
CC-BY-SA
unless otherwise noted.