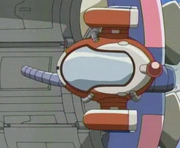 The Sky Jetter is a small aircraft debuting in episode 3 in the Bomberman Jetters anime.
It was used again in episode 10 where White Bomber flew the Sky Jetter without permission and crash landed on the planet. Shout, Bongo, and Gangu used the other Sky Jetter to search for White Bomber.
It was once again used in episode 49 to get Zero to one of the arms.
It can also be seen at the beginning of the first Story Mode stage in the Bomberman Jetters game for Gamecube and PS2.
Gallery
Community content is available under
CC-BY-SA
unless otherwise noted.