Seesaw (ぎったんばっこん) is the ninth stage in the Battle Game of Super Bomberman 4. It appears to be located in the Modern Era. The featured traps here are the Seesaw and Arrow. Unlike the Seesaws in the original Seesaw Park stage, all Seesaws in the stage are synchronized; tipping one Seesaw will tip them all.
Seesaw 9-1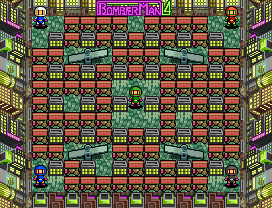 Seesaw 9-2
Password: 4622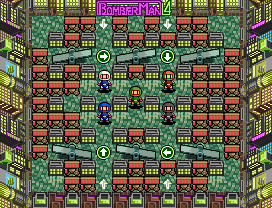 Players start next to each other in the middle of the stage. Arrows are placed on the top and bottom portions map, and the Seesaws are aligned in two rows.
Seesaw 9-3
Password: 0520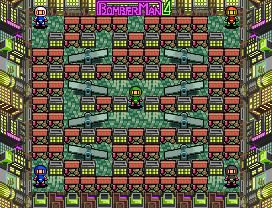 This stage is similar to Seesaw 9-1, but there are twice as many Seesaws on the map.
Seesaw 9-4
Password: 0903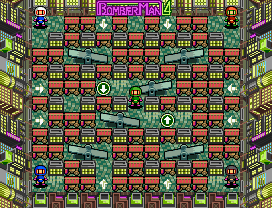 Arrows on the edges of the map point toward the center of the stage. As a result, the middle of the stage becomes a more dangerous area for players to be positioned.
References
Super Bomberman 4 Hudson Official Guidebook, pg. 77, 98-99, 107
Community content is available under
CC-BY-SA
unless otherwise noted.