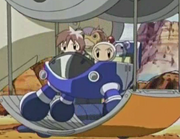 The Round Jetter is the land vehicle. It functions similar to a car that can only fit four members. It debuted in episode 2 in the Bomberman Jetters anime.
Design
The basic appearance of the Round Jetter is the notable blue color. It has two head lights, two doors on both sides, and what seems to be wheels attached to legs. On the back appears to be some type of capsule, possibly a storage.
Land Jetter
The vehicle can also gain an ability to climb up steep slopes.
Episode Appearances
Gallery
Community content is available under
CC-BY-SA
unless otherwise noted.