Rolling Sugedama (すげだまごろごろ) is the third stage in the Battle Game of Super Bomberman 4. It appears to be located in Hyperspace. The featured trap here is the Iron Ball.
(Note: The number of Egg items within parentheses is an extra amount that may or may not appear at random in a match.)
Rolling Sugedama 3-1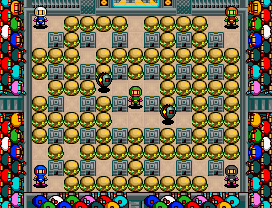 A basic layout with two Iron Balls.
Rolling Sugedama 3-2
Password: 4622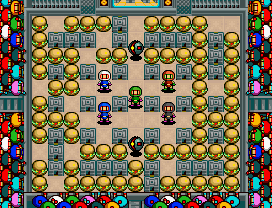 Players start next to each other in the middle of the stage. The two Iron Balls are immediately accessible to all players.
Rolling Sugedama 3-3
Password: 0520


Two barriers of Hard Blocks surround the middle of the stage, and there are few entrances.
Rolling Sugedama 3-4
Password: 0903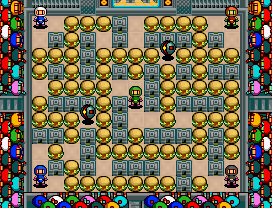 The Hard Blocks are laid out in a complex pattern, causing the Iron Balls to move more randomly.
References
Super Bomberman 4 Hudson Official Guidebook, pg. 71, 86-87, 107
Community content is available under
CC-BY-SA
unless otherwise noted.