The Sandman Will Keep You Awake - The Loop
Play Sound
Red Zone Pieces (or simply Red Pieces) are Zone Pieces items found in the first 3 games of Bomberman Land series (and Bomberman Land Portable). This item is required to open the gate throughout the Bomberman Land theme park.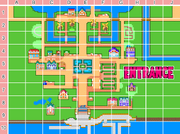 Note: This following pieces guide is in the pieces numerical order, not obtainable order.
At the building around H-5, is a game called Red Daruma Drop (赤だるま落とし). You must whack every pedestal below the daruma without toppling the tower (and you will get bonus points if you knock out 2 pedestals in one swing). Beat the high score to win Red Piece #1.
At G-3, talk to the staff, he'll ask you if you want to play, say yes, and you'll start at the staff spot. Bomberman moves automatically in the direction he is facing, use the d-pad to steer him, try to reach and talk to the gardener without falling off the dirt path to win Red Piece #2.
At F-5, F-6, G-5, and, G-6, there are blank flower bed adjacent to the full bloom ones, ignore them for now and explore the other part of Bomberman Land. As you progress through the game, more flowers that you can examine will start blooming in, most of them have 5 coins in them, but one of them have Red Piece #3.
At CAFE de BOM near C-5, there is a blue bomberman wearing strawhat, talk to him, then (whenever you can) go to Attraction Zone thru A-10 of Entrance Zone, at CAFE de BOM of the Attraction Zone, there a red bomberman wearing strawhat (presumably related), talk to him, he'll give you Red Piece #4.
At the building around B-5, there 2 staff in the building, talk to left staff, she'll let you play 3x3 sliding puzzle. Just simply slide each of the pieces to recreate original picture, and you'll earned Red Piece #5.