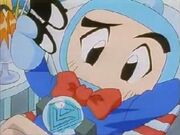 Light Blue Bomber (Mizuirobon) appears in Bomberman B-Daman Bakugaiden, but only in a small role. He was voiced by Issei Miyazaki in the Japanese anime.
Bakugaiden III
Light Blue Bomber is a minor character in Bomberman B-Daman Bakugaiden and only appears in the second episode of the series as a spoiled, but rather wealthy B-Daman living on his home planet of Mercury. When he was told that he was one of the seven chosen heroes who would save the Solar System from the evil Dark B-Da, he laughs and then refuses.
Green Bomber
told him how much of a coward he is and then agrees to join the team, saying he could use some exercise. He claims that he is chubby and this would do him good.
Yellow Bomber
got rather annoyed when Light Blue Bomber called him an aircraft pilot, yet was only too happy to play the part when the latter offered to pay him to pilot the ship, a hint of his character in the main part of the series (B-Daman Bakugaiden proper). After Episode 2, he never appears in the series again.
Community content is available under
CC-BY-SA
unless otherwise noted.