The Sandman Will Keep You Awake - The Loop
Play Sound
Bomura is an item that appears in Saturn Bomberman. It only appears in the Bomber Catcher minigame in the Wide Mode setting.[1]
Description
The only clue given to its function is the artwork that appears next to it, and it is not listed at all in the European manual for the game. When Bomura is grabbed by the winning player during the Bomber Catcher game, it is treated as if the player had made a bad grab (grabbing a Geta or nothing at all).
Almost a minute into each round of the next game, Bomura, a large robotic dragon, will appear from the right side of the screen, flying over all obstacles with a propeller on its head and landing in the very center of the map. It then proceeds to move slowly and seemingly aimlessly, destroying any Soft Blocks that are directly underneath it. Occasionally, it will stop moving and fire a laser at a point six tile spaces in front of it. The laser sweeps from Bomura's right to its left, razing seven tile spaces in total and destroying any Soft Blocks, bombs, items, or players that may be there. The resulting flames last for a few seconds before disappearing.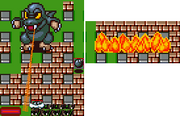 Bomura may be damaged with explosions, and takes ten hits in total. After taking full damage, it will lift off of the ground and fly out of the left side of the stage. It will also exit the map in the same fashion when one minute of play is left and when the round is over (one player or team has won, or a draw has occurred).
References
↑ Saturn Bomberman Japanese manual, pg. 27