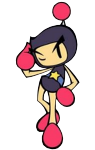 Want to suggest an article to be featured? Featured articles are chosen every week or two and will be put up on the Main Page. Create a new section with the name of the article and an administrator will look into it.
You can suggest:
For an article to be featured, it must meet the following criteria:
It should be at least 1000 bytes (check the page's history).
It should contain at least 2 paragraphs.
The page should be formatted properly. No images should be scattered around.
There should at least be 1 image.
It should be categorized according to the subject.
Suggest one by adding to the "Pending" section.
Suggestions
Pending
Successful
Unsuccessful
List of featured articles