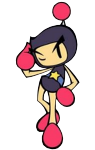 Welcome to Bomberman Wiki! We are currently editing 1,599 articles and you can help us! We have been expanding since 2005 and will continually expand as we go on!

Bomberman Wiki is the main database for all things Bomberman. You can find anything you need in the navigation below. If an article has not been created, create the article! Bomberman Wiki needs your help! Don't forget to check the wiki's policies!
Bomberman Wiki needs your help to expand into a great source of all things Bomberman! Feel free to create an article that has not yet been created.
You may also choose to upload images not yet uploaded. Pictures are the base part of Bomberman Wiki!
There's tons of things to do around the wiki, such as:

Editing your own user page
Writing blog posts
Create new articles
Discuss things with fellow contributors via their Talk Pages
And more!
Feel free to contact the administrators of this wiki:

Have fun editing!