Bomberman Story Official Guide Book is the official guidebook for Bomberman Story/Bomberman Tournament. It provides detailed information on the game's Normal Game, Battle Game, general strategies, and so forth. It was published by Shogakukan.
Contents
Before the first chapter, there is a summary of the story and brief descriptions of Bomberman, Max, Pommy, and the Bomber Shuttle. A table of contents is provided on page 4.
Act 1 - Basic System
This chapter begins on page 5. A basic overview of the game is given. The Normal Game and Battle Game are briefly described. Basic elements of gameplay for the Normal Game are reviewed, such as the four zones, collection of items, towns and fields, the map, and so on. All bomb types and the Fusible items required to make them are laid out. Different items such as the Radar, armor, and Medicine are also listed.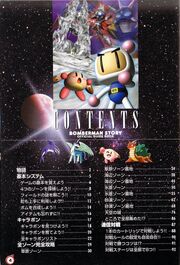 Act 2 - Charabom
This chapter begins on page 17. General Charabom information is described, such as collection, fusion, and usage. On pages 22 to 28, a list of all Charaboms in the game is provided, along with their individual stats, special abilities, and a description of how they may be obtained. Notably, the chapter title refers to Charaboms in English as "Charaboms".
Act 3 - All Zone Perfect Capture
This chapter begins on page 29. It is essentially a walkthrough for the Normal Game. Maps and information on all zones, towns, and bases are provided, all enemy characters are briefly described, bosses are detailed, and instructions for obtaining different items and Charaboms are provided.
Act 4 - Communication Battle
This chapter begins on page 87. It includes an overview of Battle Game gameplay, rules, the Fishing Bomber minigame, and so on. A list of all items is given, as well as a list of all possible Skull status effects. Each Battle Stage is described, and strategies are provided.
Community content is available under
CC-BY-SA
unless otherwise noted.