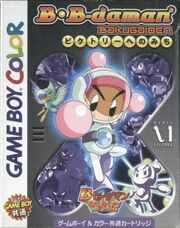 Bomberman B-Daman Bakugaiden: Victory heno Michi is an RPG game for the Game Boy Color, exclusively released in Japan.
Gameplay
Play mode
In the Play mode, the player can choose between three characters from the main series. Once selected, the player appears in a board room, where he meets NPCs and enemies.
Combat mode
In the Combat mode, the player can increase their attacks, defense, HP and more in a single turn by utilizing cards, as well as using their B-Da armor and robots. The characters have their own individual abilities, helping them defeat enemies.
Gallery
Community content is available under
CC-BY-SA
unless otherwise noted.