Baku Bomberman 2 Official Guidebook is the official guidebook for Baku Bomberman 2 (Bomberman 64: The Second Attack). It provides detailed information on the game's stages, items, enemies, secrets, general strategies, and so forth. It was published by Shogakukan Shogakukan.
Contents
The entire book is divided into two chapters. Each chapter contains multiple sections.
Prologue
On pages 4 and 5, the story of the game is given and several important characters are listed.
Game Mode Introductions
On page 6, the Story and Battle Modes are described. On page 7, the Custom Bomber screen and Options are described.
Control Basics
On page 8, the basic controls for the game are outlined.
Story Mode Complete Walkthrough
This chapter begins on page 9. The basics of Story Mode, such as general goals, progression through worlds, and cooperative play, are described. All bomb types and items are listed. For each stage, enemy characters are briefly described, maps are provided along with walkthroughs for each area, the locations of Custom Parts and Guardian Armor are given, and boss moves and strategies are provided.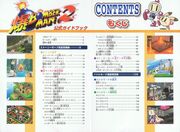 WORLD 1 - pg. 20
WORLD 2 - pg. 28
WORLD 3 - pg. 38
WORLD 4 - pg. 48
WORLD 5 - pg. 58
WORLD 6 - pg. 68
WORLD 7 - pg. 78
WORLD 8 - pg. 88
At the end of this chapter, on pages 101-108, is the "All Data Complete Exhibit", which offers the stats for all Food items, a chart for Pommy's transformations, a list of all Shop items and requirements, a list of all Custom Part locations, and a list of the locations of the Guardian Armor parts.
Battle Mode Thorough Explanation
This chapter begins on page 109. Basic rules and strategies for Battle Mode are outlined at the beginning of the chapter. The requirements for unlocking each set of CPU characters are given, and all Skull and Devil effects are listed. For each Battle Type, rules and strategies are provided, and all available maps for that Battle Type are listed. All Battle Maps are listed on pages 124-126. The available Battle Types for each map are listed, and each map is briefly described. On page 127, "3 Great Techniques" for general battle play are described.
Community content is available under
CC-BY-SA
unless otherwise noted.